For 24 hour emergency service
Please call 780-782-2367
Backflow Prevention
EPCOR bylaw 19626 requires the following:
Remove any unnecessary cross connections and isolate your water system from the public's.
Protect cross connections that can't be eliminated with an approved backflow prevention device or assembly.
Ensure that all testable backflow preventers are tested annually by a certified tester, and all non testable devices are visually inspected.
We have licensed technicians and equipment qualified to provide backflow prevention installation, testing and repair. We are registered with the City of Edmonton as an approved company.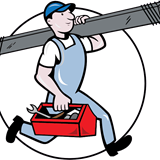 Pricing
Our rates are as follows:
Monday to Friday 8AM - 4PM: $115.00/hour with a 1 hour minimum charge.
After hours and weekends: $172.50/hour with a 2 hour minimum charge.
We offer 24 hour emergency service.
We have no hidden dispatch or administrative charges.
GST will be charged on all invoices.
All credit card payments will include a 3% credit card fee.
Prospect Plumbing & Heating
We specialize in plumbing and heating service. From the smallest home to the largest facility, we have the experience to solve your issues!